Painting interior walls in your home is an exciting DIY project to take on. A fresh lick of paint can leave an incredible impact, brightening up a tired room and completely transforming a property. To cut the costs of hiring a professional, learn how to paint walls yourself.
While painting walls might look simple enough, some expert painting tips and tricks for getting it perfect. You can avoid making mistakes by following some easy steps, wasting money and time repainting interior walls.
If you want to paint various walls and surfaces, you've come to the right place. In this article, we discuss the essentials for painting a wall to master your painting project.
Make a plan
First things first, always begin an interior project with a plan. Think about the result you want and the best way to get there. When painting walls, consider things like the wall surface, the height and the existing paint colour.
You'll need to decide whether you want to paint the ceiling, an accent wall or the entire room. Once you create a plan, you can begin sourcing the tools and materials required for a successful job.
Each project is unique, but when painting an interior wall, you're likely to need the following equipment:
Paint tray.
Paintbrushes.
Paint roller.
Painters tape.
Extension poles.
Sandpaper.
Canvas drop cloths.
Interior paints.
Extension pole.
How to paint a varnished wall?
To paint over a varnished surface, you first need to clean the wall with a household cleaner, removing dirt and residue that can stop the paint from sticking well.
If the surface is uneven, you'll need to even it out by filling in any cracks or imperfections. Filling the cracks ensures that the paint evenly distributes on the wall. If the varnished wall is wood, wood putty will do the trick.
Next, the walls require sanding before the application of a primer. Once the primer is completely dry, apply paint directly to the surface.
How to paint a wall and ceiling?
Walls and ceilings can be challenging. For the best results, carefully cut in walls and ceilings using a paintbrush to paint along with all outer edges.
Include the ceiling outline, baseboards, light switches, outlet covers, corners, and windows — all the areas you'd struggle to use a paint roller.
If painting an entire room, always paint the ceiling first. This way, you can focus your attention on the ceiling without worrying about excess paint splattering onto the walls.
How to paint a wall a lighter colour?
Painting over dark walls can be tricky, and it's doable, but you'll need the patience to eliminate the dark shade. Once your wall is prepped and ready to go, apply primer, and white primer will ensure good coverage over the original base colour.
Roll the primer and the new paint colour in large, overlapping M or W shapes. Do this until the dark colour is wholly covered. These M and W shapes prevent marks from being left behind from the roller.
Add a second coat or as many coats as you need to cover any missed areas. Once the walls are fully covered, and the paint dries, you can apply the fresh paint colour of your choice.
How to paint a wall arch?
Adding an arch to your walls is an innovative way to update a space. If your room lacks architectural design, painting an arch is an inexpensive way to add colour and texture to a section of the wall. You can even use leftover paint if you're on a budget.
Create your design in pencil first until you get it just right. Section of the shape around the edges using painters tape. Use a paint roller to paint the body of the arches and paintbrushes to trace the arch's curve. You can buy masking tape from your local supermarket to handle curves and make life easier.
How to paint a wall you can't reach?
Painting a wall, you can't quite reach is challenging, even for professionals. However, it is not an impossible task. Arm yourself with the right tools and materials for accessing those hard to reach places.
Extension poles are the absolute solution when it comes to painting tall walls and ceilings. These poles extend your rollers handle, extending your reach to different heights and preventing you from overreaching. In some properties, an extension pole is all you need to get the paint job done.
In projects where a ladder is required, permanently stabilize it correctly. It's helpful to secure it between furniture or have a second pair of hands to hold the ladder in place for you. Painting up a height can be dangerous, so be sure to take all necessary precautions.
How to paint a wall that is peeling?
A peeling interior wall is usually the result of a lousy preparation job. Luckily, it's not too difficult to repair with fresh paint.
Shield the floor using a drop cloth, and scrape away as much of the peeling paint as you can using a paint scraper. Seal up any holes and cracks using a putty knife and surfacing compound.
Next, sand the walls over the repaired sections to smoothen out the entire wall, ready for the primer. Apply the primer using paintbrushes for the outer edges and the paint roller for the larger sections.
Once dry, your new paint can be applied, followed by a second coat if necessary.
How to paint a wall primer?
Painting a wall primer is similar to the process of painting your wall with colour. The primer is essentially the undercoat, sealing imperfections caused by patching and repair, and it also covers stains, marks, and old paint.
Using a primer is the ideal way to prepare a wall for a paint job, especially when it comes to interior paints. It helps prevent cracking and peeling, providing a smooth surface for the new paint to be applied.
Apply primer carefully to the edges using paintbrushes before rolling paint for the remaining surface. Cover the whole wall without applying it too thick.
Drying time is essential. Make sure the interior walls are completely dry before continuing with additional coats of paint.
How to paint a kitchen wall?
When kitchen remodelling, painting can be a little easier as cabinets limit the wall space. However, you should still choose your colours wisely, as the kitchen is one of the most popular rooms in the home.
The first step in painting kitchen walls without the help of a professional painter is to clean the walls thoroughly. Walls and surfaces are often greasy from the environment of cooking and preparing food.
Removing grease and any other residue before applying paint is the best DIY tip for a good paint finish. Once complete, use drop cloths or plastic sheets to cover any kitchen appliances, worktops and your home bar. It's essential to protect furniture and other assets when painting the interior.
Start with the ceiling to avoid drips, and switch between a brush and roller when moving between larger surface areas and the paint trim. Opt for long-lasting quality paints for the kitchen so they can be washed regularly, particularly in the kitchen backsplash areas like behind the oven and sink.
If you wish to update the entire kitchen, consider cleaning and repairing the cabinets before adding a coat of paint. Lastly, paint the woodwork, including interior doors, window frames, and skirting boards. Make sure you clean brushes and rollers throughout the process of painting your home to avoid colour mixing, as well as picking up dirt and dust.
How to paint a bathroom wall?
If you've decided against hiring bathroom remodelers, there are a few tips you should know before tackling this space.
While painting your home's bathroom is similar in process to painting any other wall, a specially recommended paint is required. The heat and steam from hot water can impact walls, and therefore use quality painting must be obtained in these spaces to resist damage from moisture. Water-based latex paint is a good formula for any residential painting that requires durability.
Whether you do it yourself or hire a painting company, the walls may need to be sanded to remove any flaking or peel from the previous paint job.
Apply masking tape to cordon off bathroom sinks, the bathroom vanity unit and any other fixtures. You should also remove bathroom accessories as this will prepare the room for painting yourself, or if you decide, you would prefer professional painters to paint.
Once you've decided on the colour scheme, use a brush to paint the colour, beginning by cutting it around the walls and edges first. Paint can then be rolled on using the M and W shapes. The paint must always be dry before applying additional coats.
Remove all masking tape, clean all fixtures, and you'll have yourself a professional painting job.
Wrapping up
Whatever interior project you've taken on, you want it to be a success. When you learn how to paint using easy steps, painting walls can be straightforward.
You can transform your space in no time without breaking the bank for a professional team of hands. Perfecting the basics will allow you the freedom to explore colour trends, create murals and select the best wall paint for the job.
If you're unsure about colours, consider a colour consultation before buying. Once purchased, always check the datasheets for safety information about the products. Painting your wall is an ideal DIY solution for tired properties in need of an uplift. If you gather the right tools, you can begin a quick, easy project with excellent results.
If you need a hand painting of a home, unit, apartment, or upcoming renovation project, get in touch with MrPaint today!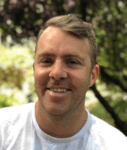 In 2014 Adrian quit his job and opened a painting business called MrPaint. Adrian is a strong believer in the 'healthy body, healthy mind' principle and backs this up by being a competitive track cyclist here in Australia.