Painting for the first time? Paint jobs can make or break the look and feel of your home. Even though it might sound simple — picking up a brush and dipping it in paint results in a good paint job, right? Wrong!
There are way more technicalities involved than just going to the hardware store and picking up a brush. It's not as straightforward as it seems, and if a DIY paint job is done wrong it can ruin the look of your house and leave your flooring and fixtures stained. Here are some do's and don'ts that will help you get started on your painting journey.
1. Prep the wall
Start with a clean and smooth wall or else the paint won't look as nice. Use sandpaper to smoothen rough edges by starting from the ground and slowly work your way up to the ceiling. Make sure to sand evenly and use minimal pressure or your wall will have a damaged and uneven surface.
2. Deep clean brushes
As with anything, painting works well with a clean slate and a clean brush. If these are not new and are being reused from a previous project, make sure to soak them in thinner or vinegar. Another way to soften the coarse bristles is to soak them in fabric softener.
3. Use aluminum foil
Trays can be a chore to clean every time you use it. To avoid the extra step of cleaning it all the time, wrap it in foil and dispose of it after use. Doing so will save you time and effort, and you won't have to scrub down your tray every time you paint.
4. Protect the floor and furniture
This may be bothersome to do, but carefully placing newspaper or plastic drapes is a necessary step. It'll save you from nasty stains that can seriously damage the finishing of the flooring and furniture. You'll thank yourself after.
5. Use drop cloths
Paper polyester drop cloths are the best because liquid won't seep through easily. They're also inexpensive and can be immediately disposed of after. While you can use drop cloths out of textiles, they're not the greatest when it comes to protecting your floor.
6. Start on one wall first
Resist the urge to paint aimlessly. Working on one wall at a time will give your space a more uniformed look. Using a ladder will also help you get through all the nooks and crannies on one side of the wall, and make everything look flawless.
7. Protect glass windows
Protect your windows by buying painter's tape or a wipe-on protective film. Alternatively, you can just scrape off the excess paint from the glass once it dries. This can be done with a tool such as a razor.
8. Mix your paint
If you're painting a large surface area, you'd want to ensure that the color remains uniformed throughout. Paint with several buckets of the same color from a hardware shop, and you'll end up with varying shades.
9. De-fuzz rollers
Do this especially for cheap rollers. You can de-fuzz them by using a lint roller, duct tape, or some masking tape. If you skip this step, your wall will end up looking kitschy and more textured than usual.
10. Don't submerge your brushes
While it's tempting to dunk them in paint, try not to completely submerge your brush and instead, allow a gap between the bristles and handle. To prevent side drips, place a rubber band in the middle of the bucket as a tool.
Inhaling fumes may be a problem whilst painting indoors – especially when there is not enough natural ventilation. To make the process a little more pleasant and minimize the smell, put one tablespoon of vanilla extract (per gallon) into the paint.
Painting should be fun
Painting can be fun and exciting, especially for first-time owners or anyone who wants to update the look of their house. While it may look like the simplest job to do in terms of home improvement, there are a lot of things to pay attention to, especially when it comes to exterior painting. 
Purchasing the right tools and using them properly is key to making your space look flawless, and can also prevent future mishaps from happening. If you want to get quality results that will last, however, it might be a better idea to book the experts as bad paint jobs can end up costing you more in the future. Contact Mr.Paint today for a painting quote.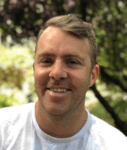 In 2014 Adrian quit his job and opened a painting business called MrPaint. Adrian is a strong believer in the 'healthy body, healthy mind' principle and backs this up by being a competitive track cyclist here in Australia.