When it comes to decorating the interior of their homes, most people will often struggle with choosing which colours to paint their walls. That's because the colour palette is how you will set the mood for each room of your house. That's why we've decided to make things a little easier for you by helping you choose the perfect colour scheme for you and your home.
Create a colour palette
The first thing you need to understand is that you will have to choose a palette of paint colours including accent shades for your whole house. This palette will then be used as a guide or a blueprint for choosing all of the interior design aspects of your home.
Your palette will eliminate a lot of the guesswork when it comes to making decorating decisions for your home, including wood, stone, or metal finishes for things like floors, décor, and furniture. And this colour repetition will ultimately ensure the style of your interiors flows seamlessly between each room.
A white shade
The first colour you'll need to choose is a shade of white. This shade will usually be used liberally on areas such as doors, trims, architraves, skirtings, and closets. Remember that all colours including whites have a wide variety of undertones.
Even if they look very similar on the chart, every shade of white will vary in difference. One of the most effective ways to choose a shade of white is by matching it with any furniture, fittings, or flooring you have that won't be changed.
Neutral shades
An important part of your colour palette, neutral shades will be used for all the interconnected areas inside your home. This could be open areas like lofts and hallways, or inside closets, toilets, and bathrooms. Neutral shades can be colours, but it's important to choose very subtle hues. Remember too that having a few different neutral shades in your palette will make it much easier to bring everything together within your interior space.
An accent shade
Your accent shade should be the boldest, darkest, or most saturated shade of colour within your palette, as it will be applied sparingly throughout your home for dramatic effect. Your accent colour will often be used inside your home in different and interesting ways.
That being said, while it will often only be used a few times in each space as an accent, sometimes it can also be used as the main shade in other areas or specific spaces.
Complementary shades
Each room should have one major design element as a focal point that makes it stand out as special, you should choose a shade that complements each piece.
For example, if you have a certain piece of boldly coloured art that you want to highlight, it's a good idea to choose a soft shade of paint as the background in order to enhance the artwork. This will allow you to mix the feature colours and match them with the colour patterns of each room.
Test your colour palette
Once you've started to narrow down your palette choices, it's super important to test the shades in each area of your home to ensure you have chosen the perfect colours. Sample cards are often deceptive too, so bring home some test pots of each colour so you can paint swatches on the walls.
Remember too that light and shadow can also have an impact on the shade, so make sure you check during the day, at night, and with different bulbs and lighting fixtures. This will ultimately allow you to properly assess whether the different shades of colour work together in each specific room.
Get creative with your colour choices
Your paint palette will ultimately become one of the defining features of your home, which you'll hopefully be living in for a long period of time. So when you are choosing your colour palettes, make sure you choose colours that you feel good about, that make you feel happy, and that will ultimately reflect your lifestyle and your personality.
Remember that it's all about balance because an entirely neutral home would simply be boring. If you need a hand with painting your new home, then get in touch with MrPaint today!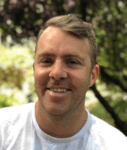 In 2014 Adrian quit his job and opened a painting business called MrPaint. Adrian is a strong believer in the 'healthy body, healthy mind' principle and backs this up by being a competitive track cyclist here in Australia.