Are you looking for some popular interior decorating styles and trends? Well, the best way to get an idea of what works for you is by familiarising yourself with some of the most popular styles. In the meantime, we've listed some of the major styles for you below, with a brief introduction to each.
Traditional
Full of luxurious furnishings with timeless details, the traditional design offers a variety of older European styles with wood panel layering, elaborate moldings, functional fittings, and plenty of sensible accessories.
Traditional homes are usually big on comfort, featuring dark wood finishes and rich colour palettes, all with elaborately ornate details. When it comes to furnishings, they're all styled traditionally with silk, velvet, and other classic fabrics, with a variety of lines, textures, and patterns.
Modern
Offering a simplistic sensibility with almost every design element, modern décor is super sleek with an abundance of clean angles and crisp lines.
A good example of this is downlights, which are fresh, elegant, modern is a rather broad style that employs simple designs and palettes without any unnecessary accessories or excess clutter.
Most modern furnishings have clean lines, with basic shapes, and streamlined surfaces, and are made using metal, chrome, steel, and glass, and other similar materials.
Contemporary
Frequently confused with modern, contemporary designs have a very modern feel because it is always constantly evolving around today's current and trending home improvement styles.
As it is both current and super elegant at the same time, this stylish décor doesn't adhere to any one particular design element which is why it represents more fluidity and currency.
Ultimately, contemporary designs can include open spaces with plenty of glass for natural light, with both curved and straight lines, and a wide variety of unusual designs and layouts.
Bohemian
Truly embodying the carefree and adventurous lifestyle, bohemian decor offers an eclectic layer of the tapestry that's overflowing with vibrant colours and rich patterns. This blend of mismatched features helps to create a warm and inviting ambiance with a relaxed spirit and nomadic vibes.
With vintage furnishings sourced from flea markets and the like, boho-chic can also include globally inspired textiles, wooden light fixtures, and animal hide rugs.
Ultimately, a home with bohemian decor becomes a collection of furnishings that embody the experiences of an exotic and worldly traveler. Pretty much anything goes!
Minimalism
An increasingly popular style of today, miminimalism takes its cue from modern design and then simplifies it even further. Minimalism removes anything excessive from the interior in order to ensure the focus remains on only the essential elements of the core structure itself.
Nothing is flamboyant in minimalism, as it is often defined by the ultra-clean lines within open living areas. minimalism is clean, simple, and streamlined, with neutral colour palettes, purposeful furnishings with a focus on functionality.
Industrial
Noticeable by the liberal use of exposed steel and unfinished brick walls, industrial décor is rustic in nature with an unmistakable unfinished feeling of rawness.
You can imagine metal light fixtures dangling from old timber beams under ultra-high ceilings, with abstract artwork adorning brickwork walls and sporadically placed functionally formed furniture.
Also emphasized by elements of distressed wood, exposed air ducts, and copper-toned metallic accents, this is a modern style variant that is frequently found in warehouses and urban loft apartments.
Nautical
Sometimes also called coastal decor, the nautical style incorporates white, blue, and sandy colours to create a home with relaxing, warm, and positive seaside vibes.
That's because the features of nautical décor are inspired by the beach and the sea, the unfinished wooden furnishings are commonly in beige or white, combined with chic linen upholsteries in aqua or striped patterning.
Nautical homes often also contain many other decorative elements and themed accents, with navigation maps, rowing oars, and thick ropes on the walls, and jars of seashells and model sailboats on shelves and tables.
Summing up
While these are some of the most in-vogue interiors design styles of the moment, remember that they are always constantly evolving and changing. And if you can't find one that perfectly suits you, you can always blend different styles to create your own. And, if you need a hand with painting your home or commercial building, then get in touch with MrPaint today!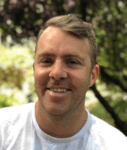 In 2014 Adrian quit his job and opened a painting business called MrPaint. Adrian is a strong believer in the 'healthy body, healthy mind' principle and backs this up by being a competitive track cyclist here in Australia.