There are plenty of low-cost bathroom upgrades and with plenty of affordable ideas to choose from you don't have to worry about blowing your budget. It's enough that you're paying a mortgage every month, but you shouldn't have to wait for your home to be paid off to make it the home of your dreams. Take a look at some of the updates you can tackle on a budget and the best bit is you can easily take care of them on a weekend.
Vanity and backsplash
Upgrading your vanity is the quickest way to make a dramatic change in any bathroom. There are plenty of DIY countertops you can tackle but look for a budget-friendly combination option with a sink and countertop together to save big money. The other low-budget option you can opt for is repainting your existing vanity.
Finish the job by installing your very own backsplash. You can up the ante by buying a colorful selection and creating your own pattern, whether you want a stylish chevron or mosaic. Of course, you can also opt for a simple subway tile unless you want to create a pattern of your own. 
Wallpaper, color, and accessories
Go bold with a dramatic wallpaper option to create a high-end boutique look in your home bathroom. The best part is that the end-product is luxury but the price tag is affordable. You can save time and money for the future by choosing one of many peel and stick wallpaper options. They're temporary and stylish.
If you want to finish the luxurious look you can do so by opting for gold accessories, fixtures, and hardware. Of course, that's up to you. If that's still a little too rich for your blood, you can accessorize with different colors. You don't have to swing a hammer to change things up. You can refresh the bathroom with new shower curtains, window treatments, and textiles like towels and rugs. If you're feeling particularly crafty you can update your storage units with adhesive paper, whether it's patterned, textured, or colorful.
Think of white accessories as a way of future-proofing your bathroom. A white toilet, tub, and sink is a wiser option than any other choice you can make. They are cheaper from the outset, first of all, and secondly, they don't go out of style so they won't date your bathroom as quickly as colorful options will.
Finish your new room with some stylish accessories, a bathroom mirror can jazz things up. If you opted for patterned wallpaper then consider a round mirror to create drama. If you're dealing with a small space, consider a gilded mirror for added sparkle. You can inject plenty of your own personality into your bathroom space by taking advantage of vintage options from internet auctions.
Make paint exciting
Of course, the easiest, most affordable renovation option anyone can choose in any room is paint. It might sound boring, but paint can be exciting too! For example, you can skip tile and rely on paint alone to create a cheap and stylish bathroom update. Consider a two-tone treatment. Use a stencil to create a line, you can go light at the top and dark at the bottom or you can push the boat out and create a stripe around the entire room. It's up to you, but with paint, there are plenty of options.
It isn't just the walls that could do with a lick of paint, you may want to give your bathroom cabinets a facelift with a fresh coat of paint. Sand your cabinets down before you paint and opt for a color that stands out or fits in. If you choose a colorful option, use your accessories to bring it all together.
Fixtures and fittings
Take a look at your lighting and shower fixtures and consider what will make the biggest difference to space. Rainshower heads are popular so it's a good option if you're thinking of the future and it's something you can do on a budget too. Of course, find an eco-friendly one to add to your savings.
Bathroom lighting fixtures often go ignored and they can be fairly dated. Look for something modern or dramatic to change the entire look of your bathroom in one fell swoop.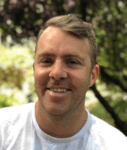 In 2014 Adrian quit his job and opened a painting business called MrPaint. Adrian is a strong believer in the 'healthy body, healthy mind' principle and backs this up by being a competitive track cyclist here in Australia.