Decorating your home on a tight budget can be a challenge. You want to turn your home into the biggest and best version of itself that it's ever been, but have a problem with finances. Fortunately, that's not always a total barrier to decorating. 
You just have to be creative, thoughtful, and frugal with your fixed expenses during the process — spending money during a decoration is almost unavoidable, so spend it wisely. Here are some tips on how best to spend what little money you have, while still making your home look beautiful.
Do it yourself
One of the most significant expenses during the decorating phase of any home is the money you'll spend on getting professionals to do the work for you. Usually, most professionals, whether it's interior designers, painters, furniture installers, or cabinet makers, will charge upwards of $50-60/hour for their services. This will leave you with quite a hefty bill in totality across all of the different professionals you may need, depending on your decorating job.
You can save yourself a lot of money by doing as much decorating as you can by yourself! You can't do some things — for example, anything to do with electricity or gas needs to be done by a professional legally. But if you're looking to paint things yourself, there are several things you'll need to keep an eye on as you go, but that is by far the most manageable part of the whole project.
Buy some plants
One of the best things you can do for your space without having to lift a paintbrush is to buy plants! The plants don't have to be big or expensive, but they will provide a nice accent to a brightly coloured or well-lit space.
There are also many health benefits associated with having more house plants, including cleaner air – as plants aid in recycling the air that you breathe. Make sure your plants are suitable for indoor growth, and you will want to check how much lighting and water they require as well for maintenance. 
Rearrange and rejuvenate the old space
Before you rush off to buy new furniture or a new wooden coffee table or throw out an old, dirty rug, consider doing some simple, cheap steps to make the space look new first. This includes rearranging the existing furniture in a new, creative way.
If you have an old, tattered coffee table, consider sanding it down and re-varnishing or staining it. Or, if your furniture looks like it could need some re-upholstering, rather than throwing it away because you're not sure how to do that, learn how to do it and then set about reupholstering your furniture.
There is so much that you can do with your existing space and existing items that you don't have to spend an arm and a leg on new furniture or new flooring, or anything new!
Check out used furniture instead of buying new furniture
Want to replace that ugly old rocking chair? What about that old, stained, chipped wooden coffee table? Maybe your couch has seen better days with pets and kids climbing all over it? Well, if you decide that you simply must replace that furniture, then one of the best things you can do for your budget is to consider buying used furniture on Facebook Marketplace, or Gumtree.
Or, if you do have a bit of money, consider looking into surplus furniture stores for some old-made-new-again furniture pieces. No matter what you're looking for, there's not that much difference between a brand-new couch and the same couch that's a few years old. And you'll likely be saving yourself several hundred dollars, if not more.
Create your own art
When it comes to decorating your walls with art, you can save money while giving back to yourself by creating your own art to hang. Whilst creating your own art may seem difficult if you're not an "artist", it's really not that difficult and can be an incredibly rewarding process. You may find a new hobby, who knows? It doesn't always have to be painting, either. You can create art with photographs, beach glass, and many other mediums.
No matter what you choose to do with your space, saving money while doing it doesn't have to be complicated or stressful, simply get creative and think outside the box. If you feel as though you can't do it alone, you might even consider investing in an interior decorator or designer to assist.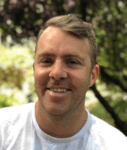 In 2014 Adrian quit his job and opened a painting business called MrPaint. Adrian is a strong believer in the 'healthy body, healthy mind' principle and backs this up by being a competitive track cyclist here in Australia.