When did you last undertake a restroom renovation? It is often one of the most neglected areas during the renovation process. Yet, a business' restrooms speak volumes about them. While it reflects poorly on the property owner, it is not a flattering look for the tenant either.
The last thing you want is for your building's restrooms to reflect poorly on you or your tenants. Let's take a look at five tips to refresh your commercial restrooms.
The aesthetics
When a bathroom dates, it does so rapidly. The key to making your renovation last is to choose classic designs. As tempting as it might be to give into trendy colours and fad styles, all of that will fade. Carry through the overall design theme from the rest of the building into the restrooms.
The last thing you want is a jarring difference in appearance from area to area. The restrooms are no different. Neutral colours are always your best bet for wall colours, flooring (e.g. tiles, epoxy flooring, timber floorboards, or vinyl), countertops, and partitions. Stainless steel is also another easy win. It holds up well, it is easy to clean, and it looks great as well. To create a warm and welcoming restroom, use individual mirrors and wall sconces to soften the décor.
This is ideal for high-end offices, department stores, or even restaurants. It all depends on the type of business you are operating and the aesthetic you are trying to create. Whatever the design, it should always be easy to clean. Clean bathrooms are key to projecting professionalism, so it is always a great idea to contact a professional bathroom cleaner to ensure your bathroom is cleaned well.
Technology
If it has been many years since your last update, this is your opportunity to embrace new bathroom technology. Opt for water-efficient toilets and sinks to conserve water and save energy. These don't have to be high-end fixtures; a simple, low-flow, single-flush toilet is ideal. Look into touchless fixtures while you are there. Less opportunity for germ spread always wins, but it makes life so simple for the user and the people who clean the space. 
Just be sure you know the life expectancy of any battery-powered touchless product and the maintenance cost if something goes wrong. You will also need to consider the design of the restroom to prevent water drips and wet floors. Additionally, the maintenance team needs full access to all the refills to ensure clients have everything they need. So, think of storage space for easy access to those items.
Cleanliness
Cleanliness is key. A clean space encourages improved hygiene for restroom users, making it easier for the maintenance team to keep it clean. One of the simplest ways to manage this is to ensure there are enough bins and they are big enough.
An overflowing bin is enough to give someone the impression of poor hygiene. Another issue that suggests poor hygiene is grout. So, as you renovate your restroom, choose the right type and colour to prevent discolouration and staining that rapidly dates your restrooms.
Any material you select should be able to stand up to intense cleaning and heavy chemicals. Commercial restrooms are often cleaned three times a day. Think about how it would hold up to that or even six or eight times daily. It's also worth mentioning the importance of selecting harsh products. Retail spaces or school facilities may want to consider vandal-resistant products, as well as fixtures that can hold up to heavy, constant use.
A helicopter view
You must take a helicopter view to imagine the project as a whole. You must think about the experience from every angle, from everyone's point of view. In hospitality environments, the restroom is the main focus. It can be a deal-breaker for hotel and restaurant guests.
Opting for a solid wall rather than a metal divider increases privacy, enhancing a guest's perception of the restroom space. It can also make life easier for the maintenance team.
Whatever you choose, know that the restroom space reflects on your organisation just as every other area of the space does. It might reflect on you even more than those other areas. And, if you need a handing with painting your restroom, get in touch with MrPaint today!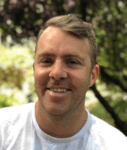 In 2014 Adrian quit his job and opened a painting business called MrPaint. Adrian is a strong believer in the 'healthy body, healthy mind' principle and backs this up by being a competitive track cyclist here in Australia.