The colour of a house's exterior influences its overall "curb appeal," and for those looking at selling or improving the value of their home, the overall appearance of the house can make all the difference.
Choosing the perfect colours for your home's exterior will not only improve its value and aesthetic, but it can also make your home more comfortable and energy-efficient. With that in mind, here are the best colours to paint the exterior of your house:
Grey

Shades of grey are always a great choice for the exterior of a house. From dark gravel greys all the way through to light greys with a slight blue undertone, a grey colour palette allows for a clean, modern, and versatile finish.
Grey is a popular exterior colour because it remains neutral, yet still has the potential to bolden parts of the house up with deeper, darker shades contrasting with lighter shades. In fact, darker greys have become popular in Australia, being used on roofs, doors and window trimmings, and lighter greys applied to the exterior walls.
White
White is a flattering tone perfect for longevity and maintaining a modern, classic appearance. If you're living in a warmer climate, white exterior paint is the most energy-efficient choice, helping your home stay cooler by reflecting heat. White is also a safe choice since it doesn't date and complements many roof colours and variations.
There's also the potential for livening up a white exterior by contrasting it with lush greenery or coloured plants for an overall striking look. In addition, white is known for making spaces appear larger and brighter which is great if you have a townhouse or a long home.
Cream
Creams are white with a yellow undertone, making this colour palette warmer and giving a more charming, softer look. This colour can look out of place in certain locations or environments, particularly if it's more yellowy – it bodes well in warmer, tropical areas as it mimics that 'sunny' feel.
Houses with grey or brown roofing look particularly good with a cream exterior, as do weatherboard homes. Homes that are more traditional with traditional decor schemes will work well with creams. Beige and creams will always be a classic choice, as both are neutral, yet they can lift a home's facade without becoming too bold or eye-popping.
Taupe
Colours inspired by the natural landscape, such as browns and taupes, add warmth and interest while still remaining a neutral choice. Taupe is a very versatile shade and can look striking when paired with white trimmings. Depending on your desired shade, taupe can fall anywhere between a brown-grey to a light brown on the colour spectrum.
Build the look with layers of ochre, slate grey, and rich browns, and extend the colour scheme to your garden pathway and driveway for a down-to-earth aesthetic paying homage to the natural landscape and adding warmth and interest to the eyes.
Bold Accents
For modern homes, using neutral tones with a bold accent to offset and lift can be a great look. For a high-impact facade, think about going for a bold monochrome palette of black and white, or choose a neutral exterior and add splashes of red paint on doors, windows, and trimmings for extra curb appeal. Contrast colours can also be used to visually sculpt a house by highlighting structural elements.
If colour isn't your thing, you can also add bold accents with the use of timbers or textured walls, pairing well with black or grey paint. Coloured accents can significantly improve a home's overall appearance, and are easy to maintain and repaint in the future if tastes change.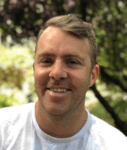 In 2014 Adrian quit his job and opened a painting business called MrPaint. Adrian is a strong believer in the 'healthy body, healthy mind' principle and backs this up by being a competitive track cyclist here in Australia.