What do you see when you look at your home from the outside? Do you see memories made on the front lawn with your kids? Do you see that summer you painted the whole house for a week straight? Do you see the new deck and what it replaced? Or, maybe you only see the exterior flaws. Maybe you see opportunities missed and what it could be? 
Prospective buyers for your home see that last one. It's the reason why they might walk on by, rather than taking a picture or calling the realtor. Your "curb appeal" is one of the many very important factors that go into a successful sale of your home. If you're looking to sell your home, you should know what curb appeal is and how it plays a significant role in a home's sale. 
What is curb Appeal?
Simply put, curb appeal is what any prospective buyer will see when they first look at a house from the outside. The outside of your house is the first thing that anyone will see, so you want it to leave a good impression on them.
If you think that your curb appeal might be lacking, here are some things you can do right off the bat to increase it. These will likely require some investment, but not necessarily a lot – but you should be prepared to put some money into it.
A fresh coat of paint
Quite simply, nothing makes a home look better than a fresh coat of paint, particularly if the previous paint job is waning. If the paint is chipping and cracking and has outright come off in certain sections, it's going to be an automatic turn-off for any prospective buyer. Adding a fresh coat of paint adds a lot of extra value to a home come sale time. Consider it an investment in the future sale of the home.
Keeping up with the garden
People often find themselves too busy to garden. Life gets complicated, and no longer do we seem to have the hours to wile away with all of the maintenance that comes with a garden. But the thing about gardening is that it requires plenty of preventative maintenance often, to avoid being swamped by things to do to it.
Whether this is a simple mow of the lawn because you don't want to or don't have the time to plant flowers, whatever the case may be, simple lawn maintenance isn't difficult and can add plenty to any first-look exterior impression. 
Good fencing
Unless natural boundaries are present, one of the best things you can do for your exterior is to make sure that your neighbours and your new prospective owners know where the property lines are. This avoids unnecessary conflicts, and an aesthetically pleasing fence can really add a sense of scale to a front garden.
Decking
If you have a lot of front-yard real estate to play with, consider installing a wrap-around deck. This is a deck that encompasses almost all of the house. It will offer any prospective buyer their own visions of what could be; where they could sit with their friends and family, where they could share lunches and drinks. Deck furniture also helps bring the deck to life. Decking is also an important investment in the resale value of the home. 
Clean windows
One of the most overlooked aspects of the exterior of a home, ironically, is the windows. You might not notice the dirty windows, as you see them every day. But any prospective buyer likely will. Just as the eyes are the window to the soul, your windows are the window to the interior of your home.
They're a reflection (the puns just write themselves) of the interior of the house. If you're hoping to sell, then a quick wipe down of your windows with soap and water is mandatory. Make sure they're as clean as can be.
Whatever your reason for selling your house, the first impression that you leave any prospective buyer with is the most important one. Almost every first impression is made from the outside looking in, so make sure that the house looks as good from the outside as it does inside. If you need a hand with painting your home, then get in touch with MrPaint today!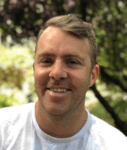 In 2014 Adrian quit his job and opened a painting business called MrPaint. Adrian is a strong believer in the 'healthy body, healthy mind' principle and backs this up by being a competitive track cyclist here in Australia.