Moving a washing machine without hiring professional movers can turn out to be a more challenging task than you may realise. That's because washing machines are;
Large – standing roughly 3 feet tall and 2 feet wide.
Heavy – weighing anywhere from 150 to 200 pounds.
Fragile – needing extensive pre-move preparations to keep them safe in transit.
So if you're moving house and you're trying to save some money by doing it all without hiring professional movers, you really owe it to yourself to read this step-by-step guide to moving a washing machine.
Pre-move preparations
Much of the moving process is about preparing the washing machine for transit. The actual move itself is fairly straightforward, providing you have taken the right precautions. And once you arrive at your destination, reinstalling your washing machine is also a relatively simple process.
So here then are the steps you should take to prepare your washing machine for the move.
Step 1: Make sure you have at least one helper to assist you with moving the washer (ideally someone fit and strong).
Step 2: Make sure you have an appliance dolly (hand truck) to move your washing machine. A dolly may be supplied with your rental truck or you may have to rent or buy one separately.
Step 3: Secure some straps, rope, and several padded blankets to protect your washing machine in transit. Again, these may come with a rental truck or you may have to rent or buy them separately.
Step 4: Disconnect the washing machine from the power outlet and turn off the stop valve on the water inlet line. If the stop valve is a gate valve, turn the wheel clockwise and if it's a ball valve, turn the handle 180 degrees.
Step 5: Disconnect and drain the hot, cold, and drain hoses and secure them to the washing machine or remove them for later reinstallation.
Step 6: Find and insert the two transit (shipping) bolts into the back of the washing machine to safely secure the drum for the move. These are normally supplied with your washing machine, so consult your owner's manual for their location and installation instructions.
The big move
Once prepared for the trip, relocating your washing machine to its new home is a fairly straightforward process, providing you drive with care and pack everything well before hitting the road. A couple of things to keep in mind are;
When you place the washing machine on the appliance dolly, make sure its side is closest to the dolly rather than its back. This is to ensure nothing delicate in the back section of the washer is accidentally damaged.
Also, heavy appliances such as the refrigerator and washing machine should be carried at the front of the truck closest to the cab and preferably tied in each corner to balance the weight and prevent movement.
At the other end
When your washing machine arrives at its new home, installation is basically the dismantling process in reverse. Reconnect your hoses, turn the water valve on. plug in the washing machine at a power outlet and make sure it's level. And remember to remove the transit bolts before using the washer again.
With adequate manpower and brainpower, moving a washing machine by yourself is not really difficult. If you use common sense and take every precaution, there's no reason why your washer won't arrive safe and sound at its new destination.
But if this article has made you think twice about taking on the responsibility yourself, there are plenty of good moving professionals out there who can help move your washer from A to B for a reasonable price.
If you're in any doubt about doing it yourself, this may be your best course of action, to avoid mistakes that could end up costing you more than your washer is worth.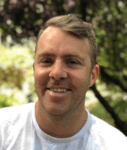 In 2014 Adrian quit his job and opened a painting business called MrPaint. Adrian is a strong believer in the 'healthy body, healthy mind' principle and backs this up by being a competitive track cyclist here in Australia.