Backyards are a great way to get the best out of the outdoors without having to leave your home. They're enclosed spaces that can be enjoyed for relaxing, playing sports, or cooking up a feast for your neighbours at social events.
Every home should have a chill factor, and the backyard is one of the most chilled environments of all. It's a good place to invest, as it can increase the property's overall value. A 2019 survey found that 68.3% of homeowners were planning to make improvements in their front or backyards.
Here are the best backyard design features to invest in for yourself to enjoy and add future marketability.
1. Dedicated social area
The best backyards find a balance between beauty and practicality. It's a multipurpose space, and should therefore suit all purposes.
A dedicated space for socialising is a bonus. Think about investing in decking or a patio for a clean, segregated area that can be adapted to different events. Alfresco dining, romantic dinners, and gatherings with friends are just some of the social activities these areas can host.
Outdoor dining is the perfect setting to unwind when the ambience is right, particularly in warm climates. Consider a sound system to add to the entertainment value, with wired and wireless options to suit every space.
2. Add a fire pit
Fire pits are a cool way to increase the chill level outside. The functional feature of warmth on a cooler evening while the smell of burning wood fills the air is an enviable backyard feature.
Before purchasing, make sure you investigate the many types of fire pits on the market and the pricing. As fire features are hazardous, you should check health and safety restrictions in your area before investing.
3. Landscape for seclusion
A backyard is a piece of outside all for yourself, and this makes privacy a must for many homeowners. Some privacy concerns can be eradicated with trees, planting hedges and adding potted plants. Climbing plants are a beautiful way to block gaps in fences and can help your garden to feel more secluded.
A strong, sturdy fence is a bonus. You'll be able to relax and soak up the sun, knowing that your children and pets are kept safely inside while acting as a barrier to separate you from the outside world.
Landscaping services are well equipped to respond to homeowners' concerns, such as overhanging trees, with many offering greener choices for those with environmental interests.  
4. Install and keep a lush pool
If built correctly, a swimming pool can help boost your property's appeal to potential buyers. It's a top priority for the chill factor, as water in hot climates is ideal for cooling down and relaxing with a swim. They also keep children entertained for hours.
Pools require regular care, with water maintenance being essential. They are a high maintenance feature, but understanding how to look after your swimming pool water allows you to keep a routine to keep it safe and enjoyable for everybody to use.
Swimming pools are of more value to a property in areas where pool ownership is highest, and this is usually in hotter locations.
5. Invest in good furniture
Perhaps the best way to increase your home's chill factor is to invest in good outdoor furniture. If you're going to enjoy the perks of having a backyard, you want to make it as comfortable as possible. A lack of comfort outside may force you back inside, especially on days when you just want to rest with a good book.
There are lots of considerations to be made when shopping for outdoor furniture. Rain, mould and rust are some important factors to think about. Durability is a must, as furniture is left outside in all weathers.
While furniture won't boost the home's value as you'll be taking it with you, it does give others the opportunity to imagine what the space could be like. There are endless ways to improve front and backyards for personal gain or to add value.
Lastly, be mindful of spending money in the right places to ensure it is tailored to meet your needs while securing the interest of others if you decide to sell. And, if you need a hand with painting your outdoor area, then get in touch with MrPaint today!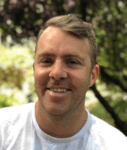 In 2014 Adrian quit his job and opened a painting business called MrPaint. Adrian is a strong believer in the 'healthy body, healthy mind' principle and backs this up by being a competitive track cyclist here in Australia.