Getting a great painter in North Sydney…easy, Give Us a call.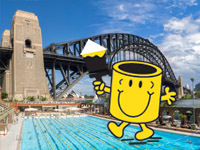 Your North Sydney home or business is more than likely your pride and joy. Located in one of the most desirable locations in the world, there are not many days we don't like waking up in North Sydney.
However, as North Sydney is not exactly the newest suburb, the eclectic styles and the colours of the decades gone past have certainly left its mark on much of the buildings. From outlandish features walls through to drab, off-white popcorn ceilings, North Sydney properties have it all.
Undertaking a new paint job could potentially transfer your apartment, house, business, venue or commercial space to something fresh, inspired, and new – and for a cost that is much less than what you may think.
Thinking of selling or have you just moved into North Sydney? Mr. Paint can help your painting needs
There is nothing more appealing to a potential buyer of your property than a fresh paint job. It smells fresh, offers more light, colour and ambience – just what the agent ordered. Why not try and maximise the sale price through utilising some of North Sydney's' more highly recommended painters and decorators?
With potential buyers looking for maximum value, often it is the little features that matter when securing a sale. Consider the interior or exterior painting, plastering, or special finishes which can combine to become the essential elements of a quality property.
And don't forget, just because you love a colour scheme or feature wall, it may not appeal to your target market – so it's always best to get an expert opinion on how to maximise your sale price. Mr. Paint has plenty of experience in the local area and can come to your property at a time that suits you to freshen up your walls and spaces with innovative paint solutions.
Have you just moved into North Sydney, love your new home, but hate the colour? Why not have Mr. Paint meet you onsite and provide an obligation free assessment of what can be done to add your personal touches.
Bring light into those dark corners, remove those ugly old popcorn ceilings, or even look at adding your own intricate details – Mr. Paint can help.
If you run a business in North Sydney and want a fresh coat of paint, we are here to help
Nothing pushes customers away than an outdated décor and paintwork that fell out of the 1970's. Why not speak to the team at Mr. Paint about their expert commercial & industrial paint services in North Sydney.
From internal & exterior painting, line marketing, graffiti removal, flood coating systems, epoxy finishes, 2-PAC, solvents and more – all your needs are under one roof.
Understanding that your time is vital to keep the business running, our dedicated commercial team can work with you and your business to minimise disruption and downtime, while maximising your paintwork.
Nothing brings customers into a store like quality workmanship, light, bright commercial painting with high-quality paints that last the test of time.
Impress potential customers with a new internal wall render, feature wall created by an expert, licensed painter who understands how to bring blank canvases to life.
Don't settle for second best on your North Sydney residential, commercial or industrial property, speak with the team at Mr. Paint today.
With 5-star reviews across the northern beaches of Sydney enjoy highly recommended customer service, quality paint and transparent prices.
FAQs Related To Hiring a Painter in North Sydney
Mr Paint – your Northern Beaches painter
Call us now to talk paint and how we can make your house look extra special.